Welcome at the Sportomotive Art Store!
Sportomotive Art provides unique art pieces, designed by Stefan de Beer and exclusively sold as 'Sportomotive Originals' (all Limited Editions) by Sportomotive. Our Art Store will constantly expand with new pieces, so become a scubscriber and get informed about new art pieces in our Art Store! We hope you'll enjoy our Porsche Art, if you have any questions, please feel free to ask! You can also follow us on Facebook, where you'll find news about new products and promotions.
Porsche Sculptures - New collection 2023
Unique Sculptures of iconic Porsche models, designed by Stefan de Beer. These 'Sportomotive Originals' are handmade and all issued in Limited Edtions, with a Certificate of Authenticity.
---
SPECTACULAR PRICE DROP OF OUR ACRYLIC SCULPTURES
Due to the outrageous increase of the purchase prices of acrylic for our sculptures in the past two years, we have decided to go with a different type of acrylic, making the prices of our sculptures more accessible to a wider audience. We hope you will feel encouraged to get one of our sculptures for your home!
SALE sculptures - Last pieces 2022 collection
These Light Sculptures are the last pieces of the 2022 Collection and therefor offered at a very low price. There are only a few pieces left, so if 'you snooze, you loose'!
Goodies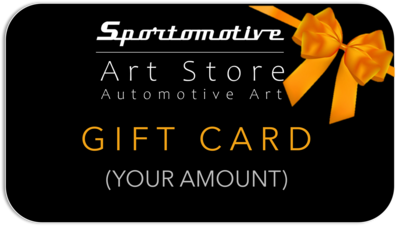 Gift card (from 50 EUR to any amount of your choice)
Gift card (from 50 EUR to any amount of your choice)
Let them buy their own art!